Welcome! This site lets you upload an aerial photo, field sketch or map extract and overlay it onto a modern map. There are 4 steps:
Upload an image file (JPG or PNG) from your hard drive (if it's not too large)
Crop any white space or margins
Tag it — at least 3 locations, then ...
Zoom, Stretch, Rotate, Scale!
We'll load it onto a modern map and you can rubbersheet it to fit.
Jump back and forth or come back later and pickup where you left off.
Instructions
Note: Cookies must be enabled in your browser.
Step #1 - Upload
Browse to your local device.
Select an image file that is of type JPG or PNG.
Our current file limit is 1.75MB - this is not intended for entire trench maps.
Upload your map to our servers.

Step #2 - Crop
If your image contains no white space, margins, borders etc, simply click Continue without Cropping.
Your image is displayed with a movable rectangle inside. Move the handles at each corner until you have cropped (removed) any components that are not part of the map.
Drag the cropping area to another part of the map if required.
You can change the background colour (ie the uncropped image). This may help as you adjust borders.
You can also change the background opacity.
Preview lets you see the cropped image prior to the next step.

↔ Move crop handle left or right
Move crop corner out or in
↕ Move crop handle up or down
Drag image
Step #3 - Tag
Your map can now be zoomed into to show all features.
For best fit, identify 4 points at each corner - give us a trench map reference or lat, lon.
The closer you get to the boundary, the more accurate our initial position is.
Optionally, give us one of the following:
At least 2 corner points.
Minimum of 3 points on the map, such as a church, cross-road or chapel.
One 500 yard line and a north / south line (for sketch map, aerial photograph or non-standard map extract.
Every option allows you to type in a name, such as Minden. We will search the Gazetteer and find the lat, lon for Minden Post.
You will need to select the most appropriate entry for a generic term such as salient.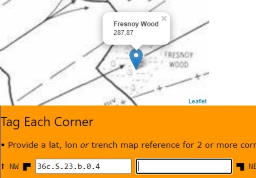 Step #4 - Rubbersheet
We display a modern map, your overlay & tools to move, rotate, zoom, combo-zoom-rotate and rubbersheet.
Initially we lock the image so you can assess the initial fit.
We recommend you use the rubbersheet last — it is so easy to overstretch and end up with a distorted image impossible to unravel!
Try this sequence:
Move your image to align with pre-drawn reference points and lines.
Zoom image to sharpen the fit.
Rotate your image for fine alignment.
Finally, use the rubbersheet for local stretching / shrinking at any corner.
You can change the opacity of your image at any stage.
There is a shortcut to rotate and zoom at the same time — note the warnings above and don't get lost or dizzy!
When finished, lock the image so that you don't accidentally drag it somewhere else.
Toolbar Options

Move image
Scale image
Rubbersheet (distort-corners)
Rotate
Scale-rotate
Unlock / Lock image
Sub-Notes
Time spent determining the exact corners will guide how close our initial fit is.
If you put the corner in as a trench map reference, such as 57c.J.16.b.3.1, then we will calculate the latitude and longitude for you.
Acknowledgements
All content on this website is © tMapper 2020
We use utilities from original Copyrighted Material or as licensed under Creative Commons or similar
Step 2 uses the Jcrop cropping engine © 2008-2018 Tapmodo Interactive LLC, used under license.
Step 3 uses Gazetteer of the Western Front, originally courtesy of John Reed, updated 2016 - 2020. Used under license.
Step 3 uses Trench Names from tMapper, original source hand scanned maps.
Step 3 & 4 uses Leaflet — an open-source library for mobile-friendly interactive maps.
Step 4 uses Williams Aviation Formulary, but sources an implementation of Destination point given distance and bearing from start point.
Step 4 uses Distortable Image library for Leaflet, part of Public Labs' MapKnitter support.
Step 4 uses GD Library — dynamic creation and editing of images.